Collateral: May-June 2004
Dinah Washington
risked it all to establish herself as one of the most controversial singers of the mid-20th century. Fellow musicians loved her. Some critics still think Dinah developed her distinct vocal style in order to sell it out across music genre: R&B, blues, jazz and pop. Despite seven marriages and a turbulent life (ended by accident with sleeping pills and alcohol), Dinah Washington vocalized an unsentimental, gritty grip on the universal domain of lost love. For that, the jazz world still reveres her.
Ruth Lee Jones (a.k.a. Dinah Washington): 1924-1963.

Collateral is what we risk in order to reach our goals. The success or failure of any endeavour is defined by its collateral effect on our lives. Jazz fans understand collateral benefit better than almost any other group in Western culture. Jazz ascends from the ingredients of improvisation that exist in our lives. Here, we examine those elements on the wide horizon of jazz.

In this edition:
Culture
Preview: 19th Vancouver International Jazz Festival


A world of jazz stages itself for the 19th Annual TD-Canada Trust Vancouver International Jazz Festival from June 25 to July 4. Over 1700 musicians will perform in over 40 venues across the city. Vancouver's Mike Allen Trio will host late-night jam sessions at O'Doul's on Robson, the restaurant on the ground floor of the Listel Hotel (where out-of-town musicians stay during the event). This marks the first year of title sponsorship by Toronto-Dominion, one of Canada's big five national chartered banks.


Al Green brings his amalgam of deep-south soul and Philly form to The Orpheum Theatre on Wednesday, June 30. Al first learned to sing from the soul in his father's gospel choir, The Green Brothers. Green's first mainstream recognition came when Let's Stay Together (1972) climbed to number eight on the pop charts. The album's title track was Al's first number-one single. After a series of personal tragedies, Al Green returned to his ministerial roots where, to this day, he sings for the congregation at his Full Gospel Tabernacle.


Al Green was inducted into the Rock and Roll Hall of Fame in 1995.


June 25:


2004: Oscar Peterson plays at The Orpheum on Day One of the Vancouver Jazz Festival. The Oliver Gannon Quartet also appears, featuring Miles Black on piano, Miles Hill on bass and Blaine Wikjord on drums.


1938: U.S. federal minimum wage law guarantees workers 40 cents per hour.


Aaron Neville, now 63 years old, will perform at The Orpheum on Friday, July 2. Verve is one of four record companies to release material by Neville in 2003. Most critics feel Aaron Neville's best work was his early work. Allen Toussaint wrote, arranged and produced most of Neville's music recorded for the Minit and Parlo labels in the mid-1960s. Aaron Neville is most popularly noted for his more recent collaboration with Linda Ronstadt. It promises to be a soulful performance at The Orpheum.


Aaron Neville: Discography of A Decade:
Nature Boy: The Standards Album (Verve), 2003.
Orchid in the Storm (Bonus Tracks) (Hyena), 2003.
Believe (Bonus Tracks) (Silverline), 2003.
Believe (TellIt/EMI), 2003.
Humdinger (EMI), 2002.
Devotion (Chordant), 2000.
To Make Me Who I Am (A&M), 1997.
The Tattooed Heart (A&M), 1995.
Festival Flashback:


June 26, 2003 : Vancouver's Orpheum Theatre is a wonderful story of how the little people saved a legacy. The 2800-seat theatre opened on November 7, 1927 to vaudeville shows but, in the 1970s, Famous Players bought the place. When the future of the theatre came upon threat, concerned citizens started a "Save the Orpheum" raffle ticket campaign (well before the modern lottery phenomenon) and began to raise money. My dad spent many Saturdays in a lawn chair selling those tickets outside a local retail store. That's how badly average Vancouverites wanted to keep The Orpheum.


2004 Festival highlights at The Cellar:
Fri., June 25: The Joani Taylor Quintet.
Sat., June 26: Crash with Dr. Lonnie Smith.
Sun., June 27: Charles McPherson Quintet.
Mon., June 28: Charles McPherson Quintet.
Tues., June 29: Swing Fingers.
Wed., June 30: Jodi Proznick Quartet.
Thurs., July 1: Jillian Lebeck Quintet.
Fri., July 2: Mike Rud Quintet.
Sat., July 3: David "Fathead" Newman Quartet.
Sun., July 4: David "Fathead" Newman Quartet.
Free concerts!








"Sometimes I wish I could walk up to my music as if for the first time, as if I had never heard it before. Being so inescapably a part of it, I'll never know what the listener gets, what the listener feels, and that's too bad."


— John Coltrane


Leveraging John Coltrane's House:


We must risk the preservation of havens in which historic compositions are penned. Such is the case of John Coltrane, whose home in Dix Hills, NY spawned some of the saxophone legend's most influential works. As with anything in this day and age, there are no guarantees. Private interest bought the property and sought to develop it.



The fight to save Coltrane's home epitomizes modern economy. Music lovers pitted themselves against Ash Agrawal of Ashley Building Corporation. Agrawal bought the property in 2002 and wanted to subdivide it in order to build two luxury homes. On April 20, more than 100 people (including Ravi Coltrane and Matt Garrison) presented their cases to Huntington Town Council. Letters of support were received from Carlos Santana, Fuji, Michael Brecker, Herbie Hancock, Stanley Clarke and Dave Liebman. In all, organizers received written support from citizens of 20 American states and 12 countries.



The bureaucrats were impressed. On May 4, Huntington Town Council voted (5-0) to designate Coltrane's Dix Hills home as a historic landmark.


Ashley Kahn, author of A Love Supreme: The Story of John Coltrane's Signature Album , believes rural splendour inspired the 38-year-old Coltrane to explore his own spirit with the music. "The fact that he wrote that masterpiece there in that house," says Kahn, "you could compare it to the dorming house in which Margaret Mitchell wrote Gone with the Wind in Atlanta." John Coltrane penned A Love Supreme over five days. The album has been in print since its 1965 release and it has sold more than a million copies. Coltrane thrived in Dix Hills home from 1964 until his death in 1967.



John Coltrane's global influence reaches far beyond jazz and extends to people throughout the world. With reissues since his death, there are more than 100 compact discs available featuring the native of Hamlet, North Carolina.






Weeds on 'Trane:



Vancouver club owner Cory Weeds, a saxophonist of considerable study, has this to say about John Coltrane's seminal work:


" A Love Supreme was and continues to be one of the most influential recordings ever made. The music is absolutely beautiful and there is such a spiritual deepness to the music. A deepness that is hard for me to explain, it's just something that I feel. Coltrane's music in general is so deep and you don't have to know anything about him to know that his music comes from a deep and spiritual place. Just listen to him."






June 26:



2004: the Joey DeFrancesco Trio rattles The Centre for the Performing Arts (777 Homer Street) on Day Two of the Vancouver Jazz Festival. The Charles MacPherson Quartet also appears, featuring Ross Taggart on piano, Jodi Proznick on bass and Dave Robbins on drums.



1925: In Toronto, Ted Rogers, Sr. announces the invention of an alternating-current tube that lets us plug in radios without batteries.






"Sons of pioneers are hungry men."






Another First for Oscar:


Oscar Peterson will release A Night in Vienna , his first-ever Digital Video Disc (DVD), through Universal Music. Peterson and his quartet performed for 90 minutes at Vienna's historic Musikverein last fall. The DVD will feature the concert and a Life and Times biography of the great Canadian pianist.



Peterson has also returned to affiliation with Verve, the label for whom he has recorded over 100 albums in his career.



"Anyone wanting to become a brother to another man should form a duo and go on the road. We even roomed together to cut our expenses, and I feel that if you can do all that and still be friends, you have something even more meaningful than a friendship; you have brotherly love and understanding."



— Oscar, on his earliest playing days with Ray Brown.






The Digital Divide: Round Three:


The Canadian Recording Industry Association intends to appeal a Federal Court ruling that struck down the CRIA's request that Internet Service Providers (ISPs) identify music file-swappers. On March 31, Justice Konrad von Finckenstein ruled that music uploaders do not violate Canadian copyright law.



"In our view, the copyright law in Canada does not allow people to put hundreds or thousands of music files on the Internet for copying, transmission and distribution to millions of strangers," said CRIA General Counsel Richard Pfohl. "We put forward a compelling case of copyright infringement in seeking these disclosure orders."



The CRIA's legal action targeted some of Canada's biggest Internet Service Providers: Bell Canada, Shaw Communications, Telus Communications and Rogers Cable.



The recording industry is pushing for Canada to sign the World Intellectual Property Organization Performances and Phonograms Treaty which would automatically change some copyright laws, including the definition of distribution like that done via Kazaa, WinMX, eMule and iMesh.



On April 28, the Recording Industry Association of America ( RIAA ) pursued legal action against 477 more computer users for sharing music over the Internet. Those named in the suit include college students at schools in 11 U.S. states.






What challenges do record producers face?







Artists are uniting to lobby Canadian Heritage to renew funding for F.A.C.T.O.R., The Foundation to Assist Canadian Talent on Records, when the current contract expires next March.



The agency's work has impact in the industry. Government funds through F.A.C.T.O.R. help artists to enhance budgets for marketing and promoting their records. In addition, the coin helps with tours, press kits and other main business expenses. Save Canadian Music.com , a group formed to lobby on this issue, claims that approximately 60 percent of professional Canadian artists have received funding through F.A.C.T.O.R. at some point in their careers, and that almost half of this year's Juno Award nominees received government subsidy for their music.



Critics of music subsidies have always maintained that co-dependency is art's biggest problem; Canadian artists have argued, for decades, that such sustenance is the lifeblood of Canadian culture. Unfortunately, this debate affords little room for moderation. Parties on both sides tend to be equally polarized.



Lobby the Canadian government.






June 27:



2004: Vancouver celebrates the big band era. Trumpeter Gary Guthman presents Swingmatism for two shows, at 3 pm and 8 pm, at the Arts Club Theatre (1585 Johnston Street). Swingmatism packs the stage with ten local players on Day Three of the Vancouver Jazz Festival.



1890: Canadian boxer George "Little Chocolate" Dixon wins the world bantamweight championship.


The future of music funding may have been released with the Canadian federal budget on Tuesday, March 23. Volunteer and not-for-profit arts groups may qualify for the same fiscal supports that currently exist for small businesses. Judith Maxwell, president of the Canadian Policy Research Network, claims that the federal Liberal government is examining the idea of setting up a bank for the charitable sector that would assist arts groups. "Then potentially," says Maxwell, "there may be a door to knock on to get money, or financial advice, or get a mortgage on a building or something—all these things that have been unavailable to voluntary organizations in the past."



Canadian government budgets are legendary for outlining what could happen; the gap between the offer and the delivery has widened in the last 20 years. Perhaps we should wait to book the date of the celebration.






Don Thompson: Remembered:

On March 18, word reached the Vancouver music community that Don Thompson ("D.T.") was hospitalized with a matter of weeks to live. Within one week, Thompson died from esophageal cancer. Family and friends attended a memorial service on Thursday, March 25 at the Kearney Funeral Home.



"The community has been a strong support system for us for many years and they continue to be," said DT's wife, Kate. She was married to Don for the last 12 years and, she said, DT carried his sense of humour right to the end.

On May 2, the music community paid tribute to Don Thompson at Toronto's historic Rex Hotel. Don's family attended. The event was emceed by Don Frank and included pillars of Canadian music. In his career, Don Thompson played with such luminaries as Anne Murray and Lionel Hampton.



"I loved booking him with me as he was not only a terrific swingin' player, he was a true character and could entertain the audience," writes singer Kenny Colman. "He knew how to get an audience swingin', with his style and humour too. He will be missed: the last of the be-bop players, a jazz cat, a hip cat, ya dig?"



Don Thompson was born on September 19, 1932 in Drumheller, Alberta. R.I.P.



A little about Nelson Riddle.






June 28:



2004: the Owen Howard/Andrew Rathbun Quintet plays at Studio 16 (1545 W. 7th Avenue) on Day Four of the Vancouver Jazz Festival. They take the stage at 11 pm.



1919: The Treaty of Versailles is signed, bringing an end to World War I.


New York pianist Fred Hersch epitomizes a creative force. Earlier this year, Hersch released Trio + 2 (Palmetto). Fred told AAJ that he wanted to build outside of the trio context and it provided an interesting challenge.



"I suppose I have always tried to be respectful of the written material (and the lyrics if there are any), yet finding my own 'signature' or approach to the composition," writes Fred. "The goal is to use the tune as a personal vehicle for expression." The album's only cover tune provides its most sedate moments. Although other jazz players may interpret The Beatles this way, Hersch and company make this interpretation of "And I Love Her" a simple joy, such as Paul McCartney and John Lennon likely intended. One yearns for more.


Fred Hersch has merged his music with Walt Whitman's poetry. "Leaves of Grass," the title of a famous collection of Whitman verse, features players in Hersch's trio as well as a cast that includes Kurt Elling, Norma Winstone and Michael Moore. Fred Hersch has excerpted parts of Whitman's epic poem, "Song of Myself," and created music to fit. The ensemble will perform "Leaves of Grass" at the Spoleto Festival, in Charleston, SC, on June 3.



Other Performances of "Leaves of Grass":
Sunday, March 6, 2005 : Herbst Theatre, San Francisco, CA
Thursday, March 10, 2005 : University of Michigan, Ann Arbor, MI
Friday, March 11, 2005 : Zankel Hall at Carnegie Hall, New York, NY
Saturday, March 12, 2005 : Kimmel Center, Philadelphia, PA




Kate Hammett-Vaughan: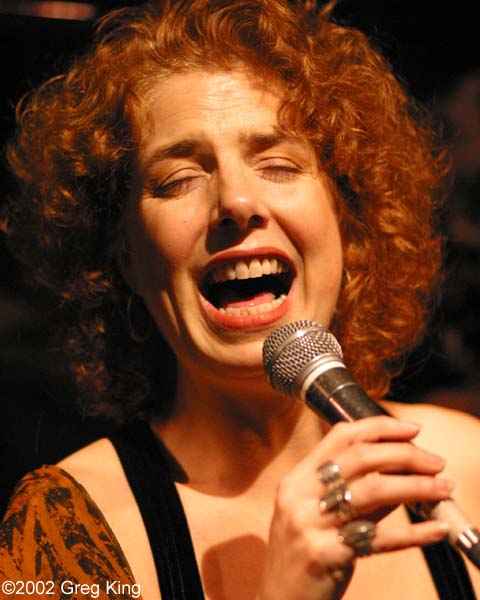 Kate Hammett-Vaughan's greatest accomplishment is her unstoppable embrace of change. The Vancouver vocalist has garnered her share of awards and accolades over many years. Her greatest collateral is her ability to survive the music business. Kate has sung her way past six record labels in three decades. To this day, she retains the dogmatic pursuit of notes.



Hammett-Vaughan's new record, Eclipse (Maximum Jazz 14782), is a fabulous testament to the will of unbridled improvisation. This is due in large part to the holistic health of the quintet that produced it: Kate at the mike; Chris Gestrin on piano; Jim Pinchin on tenor saxophone; André Lachance on bass and Tom Foster on drums. Like Kate, this record is expansive and it requires careful listening. Those who engage it at that level will be greatly rewarded.



Eclipse is a collective achievement. Together, the group provokes its own tangents and improvisations with instinctive ease, although purely traditional listeners may consider the quintet's travails to be a little too quickly altered. When one group has so much talent, its will to explore can be slightly jarring.


The record opens with "All Or Nothing At All." From the moment that drummer Tom Foster baits us into his traditional framework, then catapults into spontaneous musical swagger, we know the group's mission: the re-creation of tradition itself. Pianist Chris Gestrin's extended solo casts his work in striking contrast to the style displayed by Foster. Bassist André Lachance's chromatic improvisation sounds like a child stepping into a delicious, dangerous pleasure zone. By the song's conclusion, the Kate Hammett-Vaughan Quintet has already travelled far.



Both reprisals of Joni Mitchell's music stand out. "For the Roses" sends listeners on their second aesthetic trip through divergent improvisation by saxophonist Jim Pinchin. Although his playing serves to turn back to a different stylistic time, Pinchin lays down the notes on a frenetic bed of support. The quintet brings out the hammers, the boards and the nails that make for fabulous jazz structure. "Cold Blue Steel and Sweet Fire" perpetuates the minstrel spirit that characterizes Joni Mitchell's work while showcasing the quintet's amazing stylistic range. In both cases, Kate Hammett-Vaughan states her respect for her predecessor while marking her own signature within it.



Eclipse also reflects its own production. The record was recorded live at Vancouver's Jazz Cellar in April 2003 and this chronicle is paced for live performance. Aside from the album's conclusion, Weill and Gershwin's "This Is New," every songs exceeds eight minutes; there is plenty of room to stretch, just like at a live jazz venue. In this case, listeners benefit, live or on record.



The album's title track highlights the universal appeal of a good musical idea. "Eclipse" has a solitude in which playing technique shines in discretion. Although it might fly in the face of the quintet's general mandate, one wonders if Chris Gestrin's part may have been exercised on electric piano; his note selection would have made it very interesting. André Lachance improvises for the satisfaction of even those who normally shrug over any note played below middle C. Here again, Tom Foster's support distinguishes his outstanding sense of mood.



In recreating Rodgers and Hart, the band successfully straddles the demands of the tradition while refitting it. On "Falling in Love with Love," Hammett-Vaughan's vocalization celebrates the bop traditions that underlie this music. Lachance and Foster cook inside the boundaries while still making their lines interesting and unique.



Jim Pinchin declares himself for tremendous impact on "Tatamagouche Tango." He and Kate tango in melodic unison before Pinchin departs to range all over the scales. As the sax solo progresses, it gets more progressive. In the subsequent reformation of freeform jazz, the group makes this tangent inherently worth the wait. The solo dissipation with the sparkling of Gestrin's raindrop keys. Outstanding.



"This Is New," the shortest (and least stylistically ranged) composition on this record, resonates like tomorrow's possibilities when we turn the lights for bed. By this time, we've experienced so much change that we are changed.



The Kate Hammett-Vaughan Quintet scored big with Eclipse because it risked big with the music. The power of the collateral effect is clear.



Photo Credit
Kate Hammett-Vaughan by Greg King


Congratulations to Great Uncles of the Revolution. Their record, Blow the House Down (Black Hen Music) did just that, winning the 2004 Canadian Juno Award for "Contemporary Jazz Album of the Year." Toronto bassist Andrew Downing formed the Great Uncles in 2001. The band features Kevin Turcotte on trumpet, Jesse Zubot on violin and Steve Dawson on slide guitar. Zubot and Dawson, both Vancouver musicians, are well known for their creativity.



Other Juno Award jazz winners this year:



Holly Cole: Shade (Alert/Universal). "Vocal Jazz Album of the Year."
Guido Basso: Lost in the Stars (CBC Enterprises). "Traditional Jazz Album of the Year."







June 29:



2004: Kurt Elling plays The Centre on Day Five of the Vancouver Jazz Festival. The concert also features Vancouver instrumentalist Brad Turner with André Lachance on bass, Bruno Hubert on piano and Dylan van der Schyff on drums.



1850: Coal is discovered in Nanaimo, BC (on Vancouver Island). The commodity proves to be valuable fuel for Royal Navy ships and Canadian Pacific Railroad (CPR) trains.


Luis Giraldo's debut, Day Dream , is a 50-minute journey through the silky joy of vocal jazz with a Latin flavour. Colombia's loss is Vancouver's gain. The record features Chris Sigerson on piano and Rick Kilburn on bass. Although this chronicle contains many standards, Giraldo's Spanish vocals diversify the album for lovely effect.



Spanish is a most beautiful language. We need not know what the words mean to make up their meanings for us. Musical articulation is joy enough for those whose literacy does not provide for a direct translation of Spanish.



Luis Giraldo is currently wrapping up the production of a new trio record, Dancing on the Ceiling. Giraldo plays piano on that album with Rick Kilburn on bass and Graeme Peters on drums.






Check out the latest by Randy Bachman.






Big Sound in A Small Studio:


We should all be happy that veteran vocalist Sandy Sasso decided to risk her debut record, Mixed Grill. Given her great experience, it is little wonder this collection of standards swings so hard for such wonderful effect. Sasso began working the road with the Nelson Riddle Big Band 15 years ago and she credits their high standards for shaping the skills exhibited on Mixed Grill.



The album also represents some modern recording challenges. Producer Scott Grimaldi had a limited budget and a lot of instruments to record. Production became a building process.





Recording:
"The first musicians to record were the rhythm section players. Besides them reading new charts for the first time, they also did not have the luxury of hearing the horn players in the studio to feed off of," writes Grimaldi. "After I recorded the brass players and overdubbed all my woodwind parts, it really felt and sounded as if all the musicians recorded at the same time."



Mixing:



Overdubs on the big band numbers turned out to be Scott Grimaldi's biggest challenge.



"I took a recording studio approach and layered the orchestra one section of instruments on top of another until the songs were complete," writes Scott. "Because of budget concerns, I felt that the combination of various rhythm section players Sandy enjoys performing with, in addition to seasoned recording studio musicians (all 'Riddle' alumni), would give me what I needed rather than assemble 17 or more musicians in a studio atmosphere..."






June 30:



2004: Soul Survivors takes the stage at Vancouver's Commodore Ballroom (868 Granville Street) on Day Six of the Vancouver Jazz Festival. Singer Sue Leonard and pianist Bill Sample also appear.



1894: Korea declares independence from China, and asks for Japanese aid.






Steve Rodby on Producing:


Bassist Steve Rodby has experienced production challenges, too. Over the years, Steve played a more aggressive role in producing records for Pat Metheny as well as keyboardist Lyle Mays. He has also conducted the London Philharmonic Orchestra. Rodby's penchant for directing other musicians was derived by watching his father lead choirs while Steve was growing up.



"It's kind of a dirty job and an ugly job," says Steve. "It's both an administrative and an organization job, and it's also a social thing of really pushing musicians to their very limits, but in a way that doesn't backfire on you or intimidate people. It's a real tricky thing."


Nelson Riddle always had a job in music. He was that good. The native of New Jersey was intrigued by Los Angeles and that proved to be his most fertile ground for writing, arranging, recording and playing. Christopher Riddle, one proud son, recalls that time.



"The early years in Los Angeles were spent learning his craft with the great Mario Castellanuevo-Tedesco and Victor Young. Whilst he was largely writing arrangements for NBC Radio, he began to occasionally work for Nat King Cole, but as a ghost-arranger. However, the successes of his arrangements for 'Mona Lisa' in 1950 and 'Too Young' in 1951 set him on his way to doing most of Nat King Cole's music at Capitol Records. By this time," writes Chris, "my father had become conductor of the orchestra and had his name printed on the record label.



"My father worked with Frank Sinatra for the first time in 1953. Sinatra's career was in a professional limbo at that time. Lee Gillette at Capitol Records thought it would be a good idea for Sinatra to work with the young arranger, but Frank was skeptical and wanted to work in New York with more familiar people and surroundings. Fortunately, Gillette stuck to his guns and the genesis of this most remarkable coupling was 'I've Got the World on A String.' Notable future recordings with Sinatra would include the albums 'Songs for Young Lovers,' 'In the Wee Small Hours,' 'A Swingin' Affair' and 'Nice n' Easy.'



"By the mid-1950's, my father was staff arranger at Capitol Records and worked with such immortals as Ella Fitzgerald, Peggy Lee, Judy Garland, Rosemary Clooney, Keely Smith, Dinah Shore, The Hi Lo's, Ella Mae Morse, Al Martino, Dakota Staton, Dean Martin and Bing Crosby.



"Interspersed with the vocal recordings, my father wrote many successful instrumental pieces, with 'Lisbon Antigua' becoming a number one hit, netting him his first gold record for sales over one million," writes Christopher Riddle.



Nelson Riddle's motion picture credits:
High Society , orchestrator (1956)
Pal Joey , musical arranger/adaptor (1957)
Naked City (1958). TV Series: 1962-3.
Li'l Abner , conductor/orchestrator (1959)
A Hole in the Head (1959)
The Untouchables: TV Series (1959)
Can-Can , conductor/arranger (1960)
Route 66 (1960). The first television musical theme to ever top the charts.
The Young at Heart (1969)
Paint Your Wagon (1969)
The Great Gatsby , conductor/arranger (1974). Riddle received an Academy Award for musical adaptation.
Reader's Note: the above is a partial list. Click here for more.



Nelson Riddle passed away in Los Angeles on October 6, 1985.






Activism by Sun Ra:



Sun Ra (a.k.a. Herman Sunny Blount) is a powerful combination of things literal and metaphorical. Herman was born in Birmingham, Alabama; Sun Ra claims to have visited us from another planet. Equally conflicting is album information and personnel. Sun Ra's musical production was so prolific that scribes are still puzzling to piece together his vast catalogue.


The Cry of Jazz featuring Sun Ra and his Arkestra segregates non-black viewers from African-Americans under the guise of "African Americanism." Hopefully, we have progressed far and wide in the 45 years since this film was produced. One wonders. Play this feature in Vancouver, a gateway of Canadian immigration, and the audience would burst into laughter, so overwhelming is the "futureless future" presented by the filmmaker.



This is not to dispute the real difficulties in our lives; it is merely to opine that misery is not (as the film suggests) entirely endemic to skin colour. In this respect, The Cry of Jazz assaults all forms of humanism.



Director Edward O. Bland wisely explores a fundamental duality: the freedom of jazz within the confines of everyday life. The ideas of Bland and Sun Ra resonate best here. The dichotomy survives in today's jazz players: intrinsic satisfaction amid fiscal poverty. The Cry of Jazz also includes a sound explanation of the technical characteristics of New Orleans jazz, bop and swing – a welcome sight to the eyes of the initiate.



The Cry of Jazz deserves a place on the shelf of provocation. In 35 minutes, one seethes at the stupidity of categorizing people of any colour by the pigment of their skins. Thank GAWD I saw this film! I was going to blame jazz on my Scottish and French ancestors.



Release Date: February 10, 2004.
Studio: Music Video Distributors .






July 1:



2004: Jerry Granelli bring The V-16 Project to the Vancouver East Cultural Centre (1895 Venables Street) on Day Seven of the Vancouver Jazz Festival. The group features a fusion of multiple styles, jamming and samplers.



1867: The Dominion of Canada was created by the British Parliament.






David Sylvian Defined:


It is most comforting to hear from friends who have risked and survived to touch us again. This is the case with David Sylvian's new album, Blemish. Although the English composer dwelled within the broad boundaries of jazz two decades ago, his heritage has inspired uncontrolled creativity. Blemish is a highly electronic body of emotive sound from Sylvian, guitarist Derek Bailey and keyboardist Christian Fennesz. Fans of electro avant-garde would love this stuff.


David Sylvian has always stood out. After leading Japan through five records of astonishing change, Sylvian embarked on a solo career that began with a bang when Brilliant Trees hit the shelves in 1984. The record continued some of the musical elements most treasured by fans of his previous work. However, Sylvian (a.k.a. David Alan Batt) made new and intriguing connections with Mark Isham and Canadian Kenny Wheeler. Brilliant Trees is the kind of record that made the Virgin Records empire: creative and independent.



The music business has a losing legacy of categorizing David Sylvian. Critics responded to Japan's debut record, Adolescent Sex , by condemning the group as a New York Dolls clone. Adoration did not greet the group's second record either: Obscure Alternatives. Hansa, a German label known for its interest in disco, got its reward when producer Giorgio Moroder recorded Japan's Life in Tokyo. When Richard Branson signed Japan to Virgin Records, Sylvian responded. Japan's last two studio albums were its best: Gentlemen Take Polaroids (1980) and Tin Drum (1981). In eight years, Japan moved from a non-descript English rock band to an Asian-oriented art form.


David Sylvian continues to defy category. He has co-written new music with Christian Fennesz. David has just returned from brief tours of Russia and Japan. In the wake of a bitter dispute with Virgin Records, Sylvian founded his own label, Samadhi Sound. David has contributed to Ryuchi Sakamoto's new album, Chasm (Warner Japan). Sylvian composed the theme song of Monster , Manga's most celebrated comic series (which debuted on Japanese TV in April). David Sylvian has been a work in progress for 30 years. Few knew, in 1974, how this 46-year-old savant of esoteric art would navigate so many waves of change.






July 2:



2004: 24-year-old Toronto singer Matt Dusk plays at The Performance Works (at 9 pm) on Day Eight of the Vancouver Jazz Festival.



1777: Vermont becomes the first colony in America to abolish slavery.





Pat Metheny: "One of the things that makes the guitarist interesting is that it is such a personal instrument. It can be so many different things. You know, you say 'guitar.' I mean that could mean anything from a guy playing a nylon string on a stage totally unamplified to the guy in Megadeth with six Marshalls (amplifier)..."



- Interview with GJR: August, 2003.



Pat would know. When Metheny's One Quiet Night (Warner Jazz) won a 2004 Grammy Award® for Best New Age Album, the native of Missouri broke a record: Grammy wins in nine different categories.






Outside the Comfort Zone:


Canadian music legend Randy Bachman released his newest record, JazzThing , on May 4. This record contrasts the possibilities of great blues and the limitations of the conventions that underlie them. Randy Bachman achieves the strata from rock guitarist to jazz practitioner.



"After decades of painting myself into a musical corner, and trying to reinvent the pop/rock musical wheel," writes Bachman, "I found myself seeking a way to express myself in broader musical terms. This led me back to my teenage years with Lenny Breau and playing jazz for the first time."



JazzThing in depth .



Bachman's voice is distinguished by its plain statement. Fans of Bachman-Turner Overdrive enjoyed Randy's vocals in classics like "Lookin' Out for Number One" and "Blue Collar." For better or worse, Bachman's voice has not changed. It remains a straight delivery, unwavered by vibrato or muscular exertion.



JazzThing features some stellar guitar work. Not surprisingly, that occurs in Bachman's blues comfort zone on "Breau's Place (Quiet & Blue)." Bachman and Breau's deft combination of chords, notes and improvisation make this a prime candidate for song of the record. The back half of "Dead Cool" breaks a sweat of fantastic scaling from Bachman as well as some serious key work by Chris Gestrin. If the writing on the wall says it all, as "In Blue," Randy sought to relax in jazz.



JazzThing is an enhanced CD. It contains some very interesting studio content and audio commentary from Randy Bachman. These features easily make up for the relative brevity (47 minutes) of the record itself. Musicians and fans will enjoy the extras.



Bachman tours Canada for 11 days to promote the album. The Winnipeg native will play nine shows in seven different cities. The journey brings Randy to Vancouver's Jazz Cellar on May 20 and 21.



Randy Bachman: JazzThing :
Maximum Jazz: MAX 14792
Universal Music Canada: UMCF-05200-2






July 3:



2004: vocalists Jane Monheit and Denzal Sinclaire do a twin bill at The Centre on Day Nine of the Vancouver Jazz Festival.



1608: Samuel de Champlain founds the City of Québec.






The Arrogance of Worms:


It is only fitting that Canada's Arrogant Worms began as a joke and, somehow, survived campus radio in Kingston, Ontario. On March 14, the Worms convinced 376 Vancouverites to imitate snapping shark jaws and one imagined similar loyalties shown for the legendary Spinal Tap and The Trailer Park Boys .



Let it be quickly added: Mike McCormick, Chris Patterson and Trevor Strong are a hell of a lot more polite than Bubbles (Canada's next Prime Minister), Julian and Ricky . Still, the faithful at Cap College's Birch Theatre howled with recognition of every number. The Worms gleefully insulted us with two hours of slapstick, music and dance. The troupe carried out a whirlwind two-week tour of the country to promote its new record, Toast. Songs from this record were funny, especially "Little Cuban Friend," "Wolfe Island Ferry" and the zippy, schizoid insanity of "The Coffee Song" (such insanity being endemically appreciated by Vancouver caffeine addicts).



"Canada is the best of 'em all,
We got a beaver."






July 4:



2004: the Evan Parker Trio brings a free jazz conclusion to the 19th annual Vancouver Jazz Festival at Studio 16 (11 pm). Parker is scheduled for four appearances at the festival this year.



1865: the first edition of Alice in Wonderland is published.