Reissue Round-Up
Horace Silver
,
Silver's Blue
. This seven track 1956 release features performances by Donald Byrd, Hank Mobley and Kenny Clarke on such repertoire as "How Long Has This Been Going On? and "I'll Know. Leonard Feather's original liner essay is included as well as a reflection by Silver himself.
Woody Show
,
Stepping Stones: Live at the Village Vanguard
. Originally recorded in 1978 and released a year later, this reissue includes one track that wasn't on the original album and two previously unreleased recordings. Highlight performances include the Shaw's quintet working through "Stepping Stones and "Theme for Maxine. The album contains great essays including one by trombonist Steve Turre, his son Woody Louis Armstrong Shaw III and another producer Michael Cuscuna that provide a myriad of perspectives into this artist's career and recording.
Bob Brookmeyer
,
Bob Brookmeyer and Friends
. In this reissue, trombonist Brookmeyer's 1965 release receive an additional three tracks that were previously unreleased. Featured performers include a 'who's who' of jazz: Herbie Hancock, Ron Carter, Elvin Jones, Tony Bennett, Stan Getz and Gary Burton. Highlights include the Hoagy Carmichael penned tune "Skylark, "Jive Hoot and the previously unreleased Strayhorn tune "Daydream. Essays by Dan Morgenstern from the original release and the newly penned essay by Gary Burton are found in the packaging.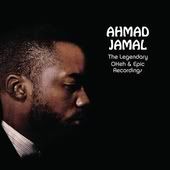 Ahmad Jamal
,
The Legendary Okeh and Epic Recordings
. This twenty-one track CD compiles various recordings from two Jamal records,
The Piano Scene of Ahmad Jamal
and
that were recorded in three sessions between 1951 through 1955. Jamal works through various 'traditional' songs and a myriad of originals that in this collection flows together naturally as if it were originally recorded to be released that way. Purchasers of this recording will find the original essay by Nat Hentoff an a new essay by Randy Weston. Both essays fulfill the thirst for information and insight into the artist in award winning fashion.

Stan Getz, The Best of Two Worlds. This reissue features Joao Gilberto's soothing guitar and vocals with appearances by Steve Swallow, Albert Dailey and Sonny Carr on the thirteen tracks, of which three were previously unreleased. Highlights include the recordings of "Double Rainbow, Retrato em Branco e Preto and the solo performance by Gilberto on "Joao Marcello. Three original liner note essays are included along with the credits and some lyrics.

Art Blakey Drum Suite. This original six track 1957 release is split between three recordings by the Art Blakey Percussion Ensemble and three tracks by the Jazz Messengers. In addition, Legacy adds three tracks that weren't on the original record, two of which are from the 1981 release of Originally and the full versions of both "The Sacrifice and "The New Message (aka Little T), take 3 were previously unreleased.

Gerry Mulligan Jeru. This seven-track reissue from 1962 finds Mulligan and his quintet in fine form. Included in this album are recordings of "Capricious and "Get Out of Town that features liner notes and essays by Joe Goldberg (from the original release) and a new one by Dave Bailey.