Barry Guy/Marilyn Crispell/Paul Lytton: Ithaca (2005)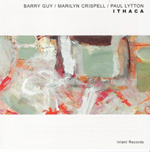 Inspired by two architects and underscored by Irish artist George Vaughn's piece Ithaca, bassist Barry Guy and his bandmates enact various planes and emotive elements on this superb effort. With this outing—and a second trio date for Intakt Records—the trio morphs tumultuous crosscurrents with driving and oddly balanced rhythms.
Guy, pianist Marilyn Crispell, and percussionist Paul Lytton are among the more notable improvisers on the globe. To that end, this band's mark of distinction and clarity of execution separates the thriving wannabes from the proven warriors. Their music is based upon many variables, including swirling clusters and happenstance dialogues amid moments of soul-stirring solitude. The trio also excels when seamlessly transposing intense movements into softly melodic grooves. At times, they effortlessly merge a sense of introversion with aggressive tactics and climactic opuses, marked by Crispell's gravitating crescendos. Architecturally speaking, the musicians devise an abundance of contrasting angles, while translucently switching gears on occasion. A superb and often stunning rendering of free improvisation, built upon substance and a noticeable sense of purpose. Outstanding.
Track Listing: Fire and Ice, Void (for Doris), First Shard, Broken Silence, Second Shard, Ithaca, Zinc, Third Shard, Unfolding, Zig Zag, Klaglied
Personnel: Barry Guy (bass), Marilyn Crispell (piano), Paul Lytton (percussion)
Record Label: Intakt Records
Style: Modern Jazz
Shop for jazz:
comments powered by

Disqus