Joe Fonda: Forever Real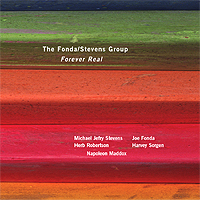 Their forthcoming release,
Forever Real
explores that same dichotomy inherent in Fonda's and Stevens' compositions. It also continues the group's penchant for throwing the listener a curve. In the past they've had guest members with the group (e.g. saxophonist Daunik Lazro) and abandoned the composition format entirely for one album, 12 Improvisations. On
Forever Real
, they have Cincinnati-based hiphop artist Napoleon Maddox guesting on two tracks. It was Fonda's idea: "You know for me I've never been into separating music. For me it's always been part of the same continuum. I've always been able to hear it. You know, I can listen to Mozart or Stockhausen and it's always made sense. That's just the way I've always been. Personally, I think that's the way it should be. I've never thought about separating it. Why would you want to?"
It's that type of receptiveness that makes this band such a winning proposition. And its that type of openness among all four members but especially between the leaders that's made Fonda/Stevens a band that has lasted. Fonda sums it up, "We're so different and we've all bumped heads from time to time but we've kept it together and shared the responsibility. I don't know, maybe it's just some kind of spiritual thing that we can do that. Most cats are leaders and they run a band. But not too many people can co-run a band and make it last."
Recommended Listening:
· Mosaic Sextet - Mosaic Sextet (GM, 1988-'90)
· Anthony Braxton - Charlie Parker Project 1993 (hatART, 1993)
· Joe Fonda/Michael Jefry Stevens Group - Live at the Bunker (Leo, 1999)
· Joe Fonda - Full Circle Suite (CIMP, 1999)
· Conference Call - Variations on a Master Plan (Leo, 2001)
· F.A.B. Trio - Transforming the Space (CIMP, 2003)
Photo Credit
Steven M. Johnson