Frank Morgan
FM:
Too much. It scared me to death; I self-destructed. Every time they tried to send me to New York I'd go back to prison. It became my pattern to play as soon as I got out of jail, and then I would start using right away, and then I would stop playing, I was so afraid of New York, and being judged, I guess I was willing to do almost anything to keep it from happening, you know? Finally I just had to say, well, shit, I'm 52, 54 years old, I'm scheduled to open at the Village Vanguard [in 1986]. Leonard Feather had told me just before he passed, "You don't have to be afraid of anything, man. Just show up and do what you do, and the world will open up to you." And Billy Higgins, who was right there in New York with me, told me, "Keep appearing, and not disappearing." Billy was holding my hand, guiding me. And Cedar [Walton] and Johnny Coles and Buster [Williams]. We were recording live [
Bebop Lives!
, Contemporary], and I didn't have time to rehearse for the record. I'd be doing interviews up until the time I was due at the club. But it was thrilling. Like a fairytale. It was my first time ever seeing New York. My first night in the Vanguard, I was two hours early. I just walked around and absorbed the energy, like all those people were speaking to me.
AAJ:
You really hit the ground running. I mean,
Easy Living
in '85, three more leader's discs in '86 alone...
FM:
Well, that was my only source of income. Thank God they were letting me record, so I could put some money in my pocket. And putting the records out made the personal appearances come pretty quickly.
AAJ:
You cut 14 discs between '85 and '96, a host of which are exceptionally good.
FM:
Well, one thing runs down the center of it all. All the time, I played with the best musicians that I could get. All the time, I just kind of rode on their backs. They were showing me the way all the time, and it's been a beautiful journey.
AAJ:
City Nights
is a wonderful record.
FM:
I haven't really heard it. I don't like to listen to my own recordings. It's always a lot of second guessing: 'I should have did this,' 'Oh, I didn't do that,' 'I played this wrong.' I am who I am—I mean, I know I'm imperfect and I'm playing imperfect music—but still, it affects me.
AAJ:
"Georgia" is a surprise.
FM:
I had just seen a magazine where they were saying Ray Charles was dying. It had a picture of him on the cover, and he looked horrible. So I had Ray Charles on my mind that night.
AAJ:
And that's an instance where you'd get the idea on the bandstand and just start playing it, and the rhythm section would just fall in?
FM:
Yeah. They give me that latitude. They know that that's the way that I like to do it. And, you know, it works. Not all the time, but, well, nothing works all the time. (laughs)
AAJ:
You lead off "Summertime," but it's really given over to George [Cables].
FM:
I just wanted to melodize a little, and then let him be heard. George—he's not well, you know—he's on dialysis. But he's still playing gorgeously.
AAJ:
Curtis and Billy sound terrific, as usual.
FM:
Yes, they're all musician's musicians. Curtis is such a beautiful cat. I love the way he plays—I feel so secure with him behind me. And Billy told me after the last gig we played, "I'm willing to go along with you just as long as you want to keep it up, Frank. I'm turning down other gigs because I really love playing with you." That made me cry.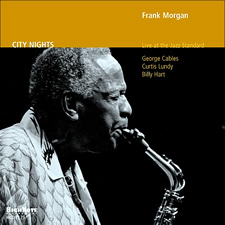 AAJ:
You've got two Monk tunes on the disc.
FM:
You know, for years I wasn't a big fan of Monk. I was resisting the whole thing, and I regret that. I was looking for the technique, and form, that shit, and this cat is just primitive. But it's beautiful. And to play his tunes, and give them your own interpretation, yet try to capture him...I'm still just kind of learning "'Round Midnight." I don't think I'll ever get it right.
AAJ:
You're very hard on yourself.
FM:
Well, I'm such a young old man, and I'm trying to correct a lot of shit as best I can. It's a humongous task. I mean, I missed the whole ballgame on Monk! For years!
AAJ:
What I'm hearing new on the record is more attention to space.
FM:
Yes, exactly. You got it. I'm just coming to understand better that silence is our friend, not our enemy. Silence is our best friend. It gives what you play after it more meaning.
AAJ:
It's rare to see someone of your age and experience so determined to continue evolving.
FM:
Oh, well, I'm just a baby, you know. And if I ever have any doubts about that, all I have to do is go listen to Charles McPherson. Or Sonny Fortune, Kenny Garrett, Donald Harrison, James Spaulding. There's so many beautiful alto players out there—you've just got to stay on top of your shit.
Photo Credit
Mark Sheldon