Pig In A Can: You Can't Poison A Pig (2003)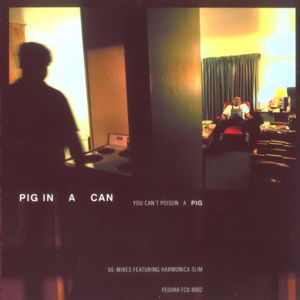 A while back a "nu-blues" CD entitled You Can't Poison a Pig [Fedora FCD 8002] by an entity calling itself Pig In A Can appeared in my mailbox. Near the bottom of the front cover (in fairly small type) the listener is informed that the album contains "de-mixes featuring Harmonica Slim." The only thing here even remotely related to the blues is Slim's harmonica and vocals. The rest of it is a showcase for the estimable talents of one John A. Wilson on guitars, basses, keyboards, turntables, sine waves, fife, electric spring piano "and other home-made boxes and electronic devices." This is an arranged marriage between traditional blues and hip hop production values. The whole album sounds more like a third-rate attempt at the sort of thing Captain Beefheart & The Magic Band were doing more than thirty years ago although it lacks the poetry, humor and Dadaist aesthetic that made the work of Beefheart & co. engaging and entertaining.
According to the liner notes You Can't Poison A Pig ". . . is the sound track to the future of the nu-blues. It will take you on a fantastic booty-shaking voyage you will never forget. Delve into the unusual world of blues legend Harmonica Slim realized through the phat beats and avant-pop stylings of John A. Wilson and friends. Call it nu-blues, techno-blues, avant-pop or whatever you want, there is one thing we know for sure—you can't poison a pig." Maybe the pig in question hasn't heard this.
Track Listing: Can't Poison A Pig; Tried To Get Along; Don't Leave Me Baby; Ghost Of John Henry; It's Coming; Hole In Her Belly; K.C. Douglas Blues; The Hog Butcher; Fresh Feelin's; Record Players; $1,000 Toasts; Slim's Roadside Luau; Slim's B3 Blues; Big Legged Woman; Butch Eats Pug In A Can For The First Time
Personnel: Harmonica Slim-harmonica & vocal John A. Wilson-guitars, basses, keyboards, turntables, sine waves, fife, electric spring piano and other homemade boxes and electronic devices Butch-drums, percussion,squeaky toys, duck and bird calls Dadu-vocals Daniel J. Nielsen-Hammond organ Chris Millar-drums Michael Kott-prepared electric cello Kelly J. Jones-backing vocals Gary THarp-additional keyboards
Record Label: Fedora Records
Style: Straight-ahead/Mainstream
Shop for jazz:
comments powered by

Disqus
View 1 archived comment(s)