Priorities of Survival: January-February 2004
DVD Review: Joni Mitchell: Woman of Heart and Mind
:
Joni Mitchell's music is so widely appealing that it has merely brushed the jazz genre. Joni Mitchell: Woman of Heart and Mind, however, is a striking document of the serious trials that have defined the humanity behind Mitchell's music. One could scarcely be prouder of a humble Canadian prairie girl who braved polio and a strange, changing world to produce world-class songs.


Jazz fans first learned of Joni Mitchell through her four albums of collaboration with Jaco Pastorius in the 1970s. Well after her ascent as a folk singer, Mitchell would receive a call from Charles Mingus, who phoned to ask if she would participate on his last record. She wrote the lyrics for Mingus' music. In 2003, Joni Mitchell: The Complete Geffen Recordings was released as a box set.


Joni Anderson was born officially in Fort Macleod, Alberta but she vividly recalls growing up in Maidstone, Saskatchewan in the 1940s. After World War II, Mitchell's father bought a house on the highway through the town of 1,200. Its picture window provided young Joni with the ultimate creative metaphor – a window on an imagination that would travel far and wide. Ironically, Mitchell remembers playing at a Calgary coffee house called "The Depression." That is where she met her first husband and manager. Joni walked down the aisle with Chuck Mitchell "...for all the wrong reasons." They would forever part when he articulated an unwillingness to raise another man's child. Mitchell the girl became an adult in a hurry.


Indeed, global insight may be the key to Joni's survival – a passion to create that carried her through some very hard times to some very good times. Last November, Mitchell celebrated her 60th birthday and surely one of her highest, most transcendent moments came in Vancouver, when she reunited with her daughter, Kilauren Gibb. Joni became pregnant when she lost her virginity; motherhood was economically impossible for unwedded mothers in the early 1960s. Joni and Kilauren met on the West Coast and Joni discovered that she is a grandmother. That was a long, long road that some of Mitchell's peers believe may have ultimately completed Joni: as a person and as an artist.


"Bad fortune changed the course of my destiny," says Mitchell. "I became a musician."


GJR's full review of Joni Mitchell: Woman of Heart and Mind.


Production Notes:


Studio: Eagle Vision
Picture Format: 16:9
Sound Format: Dolby Digital Stereo; DTS Digital Surround Sound; Dolby Surround Sound 5.1
DVD Extras:


Interview out-takes
Bonus songs: "Big Yellow Taxi," "Amelia," "Hejira" and "Woodstock"
Photo gallery
Discography
Travelogue
Slide Show
Web sites:
Eagle Rock Entertainment
Joni Mitchell Home Page.


License to Print CDs:


O'Doul's Restaurant & Bar has produced take time, a compilation of local jazz recorded at the restaurant.


Take time features trios and quartets led by guitarists Bill Coon and Jeff Shucard, vocalists Karin Plato, Alita Dupray, Kate Hammett-Vaughan, Jennifer Scott and Leora Cashe; sax players Mike Allen, Saul Berson, Campbell Ryga, Stewart Loseby, Ross Taggart and keyboardists Bob Murphy and Sharon Minemoto.


The record also contains three previously unreleased tracks: "Paulina", written and performed by Campbell Ryga; "Love Me or Leave Me" featuring vocalist Leora Cashe, and "Don't Explain" featuring Alita Dupray. take time, the first-ever O'Doul's compact disc, debuted on November 26.


With this news, O'Doul's may be testing the waters to see if it can become a player in the production and distribution of local jazz music. Although Lise Magee, producer of take time, says there are no immediate plans for future O'Doul's releases, nightlife and CDs can makes a lot cents.


Vancouver may be ripe for corporate expansion into jazz music production and distribution. The only question is how artists themselves will benefit from this variation on the old marketing, distribution and royalty paradigm. Cynics may suggest that live venues are now just using cheaper technology to profit on the proceeds of live performance; optimists may be stimulated by the prospect of producing a live album while they produce a live set. Ideally, everybody could win with a little fiscal compassion: "you make some, I make some." Realistic?


New CD Releases:


Jillian Lebeck: Living in Pieces :


Jillian Lebeck has released her debut album, Living in Pieces (Talie Records). Although the record contains three vocalized cover songs, the Vancouverite's greatest strength is her power to make notes gently resonate in our imaginations.


Check GJR's full review .


Curiosities abound here. Lebeck's classical training in piano and trumpet are not as evident as one would expect. Instead, Lebeck uses her unique artistic voice to characterize the musical ideas within a general, emotive context. Local musician extraordinaire Brad Turner beautifully offsets his own uniqueness to augment Lebeck, a mission shared by saxophonist Jon Bentley. Bassist André Lachance and drummer Paul Townsend ably fill the aural spaces between keyboard reverberations.


Jillian Lebeck's Living in Pieces was released on December 20.


Chris Tarry's Project 33 :


Vancouver bassist Chris Tarry is surviving in The Big Apple. Tarry settled in NYC for a few months and has reported that he intends to stay. Before he left, Tarry gathered a group in Vancouver and recorded Project 33 for release in late 2003 on the Black Hen label.


Check GJR's full review .


Tarry's latest is a tasteful and compelling fusion of jazz traditions with the vision of someone with enough experience to see new ways of expressing our age-old love of note. Band mates Mino Cinelu, Chris Gestrin, Jesse Zubot, and Kelly Jefferson offer unique contributions to a greater holistic result. So many egos could ruin such music. Instead, this group of musicians made a great record.

GJR In Conversation with Chris Tarry (Summer, 2003).






Sneak Peek at Michele Mele:


Canadian singer Michele Mele is set to release her new album this March. Laugh is scheduled for release almost exactly one year after Mele's debut album, Like This .



Laugh continues many of the musical threads woven on Michele Mele's debut: 42 minutes of tight ensemble, playful voice, slick sound and abbreviated solos. "Cabana Boy" initiates a comforting groove and the mainstream ride continues with creative punctuations. String orchestrations figure more prominently into the mix. "Trying" features some beautiful harmonies. Mele's band again delivers excellent improvisation on violin and flute. "Laugh" swings like few other songs in this collection. Overall, the relative brevity of this album is diminished by its stylistic variety.



"It feels so good to be free/Let the music flow through me."






How to Play the Saxophone:


Great :



Michael Brecker showed us how on December 10: blow in one end and press the buttons on the horn.



Terrible :



Appearance is everything so start at the top: put on a stupid looking beret and indoor sunglasses. Next, gig shirts. Hawaiians are fine but, in a pinch, look for floral. In a jam, you could always settle for anything sweaty and used from a club, or festival. Although many say that jazz is about using music to crash through consciousness, appearance improves playing. During those longer (more strenuous) solos, audience members who nod are actually looking at your feet. If you play in Vancouver, you'd better wear sandals. Pay attention to all local customs. Remember: nothing sounds better than looking good.



When you've dressed properly, you may practice. All great jazz playing boils down to the facial expressions of rapture and pain (i.e., the blues). Take some method acting lessons; you'll learn it in no time flat.


Reeds. Optimally, you'll move to Cuba, cure your own cane and carve your own reeds. If you're a "weekend warrior," buy 100 reeds from the store and throw away 60 of them. Those were unplayable. Take those that remain and soak them in a mixture of 27.8% rubbing alcohol and 72.2% pituitary gland extract for 17 weeks. Throw away 20 more reeds. Those ones were stuffy. Sand each of the remaining 20 reeds for 13 seconds using #1200 grade sandpaper. Take the squeaky ones (14 or so) and throw them away. Take the remaining six reeds and soak them for 17 more weeks, this time in a mixture of 72.2% rubbing alcohol and 27.8% pituitary gland extract. Sun dry the remaining reeds for three weeks and throw away three more (general principle). The last three reeds should last you several months if you stop to change them every 20 minutes.



Sell your new horn immediately and buy the Selmer Mark VI: born at 4:27 PM on June 14, 1963, serial number 635543. If you can't get that, buy another one that is equally old and expensive. Its functional condition is utterly irrelevant (especially after a certain period of solo time).



Finally: do not listen to your idols!! To really understand the music and its traditions, you must bend your ears on every bit of music ever recorded. Start with madrigals and work forward. By 2034, you will begin to understand everything played by Miles Davis.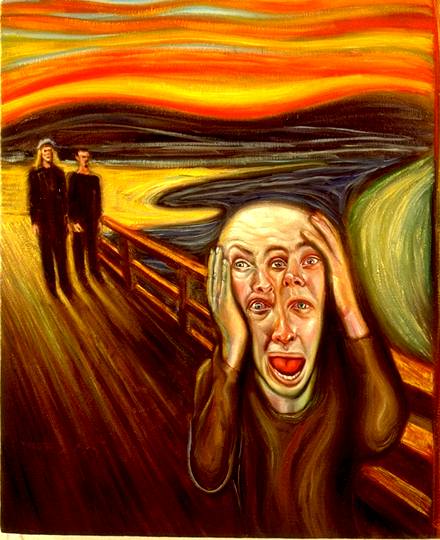 The conclusion to this column is dedicated to Tom Grieve. When we read from the giant literary works of Ezra Pound , T.S. Eliot and W.B. Yeats , none of my answers seemed to be correct. Disconcerting. Upon consultation, Professor Tom – an academic giant who stood five-foot-four – gave me the secret. "There are really only two ways to understand modernism," said he. "Flop around in a cloud of misunderstanding, or learn all of the conventions (including those referenced in the Old and New Testaments) to find out how the modernists played on old ideas." Toughest B- of my life.